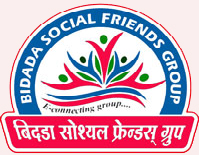 Initiative by
*Bidada Graduate Forum*

Those who are already Graduated or Post Graduated or Working in Business sector, Industry sector, Academic sector, Services sector (Insurance agents, Chartered Accountant, Advocate, Computer, IT, or any other sector etc. etc.) , through their experience and Knowledge of Particular sector can be Helpful to Our Village's Brothers and Sisters, who are studying, Graduating or Studying after Graduation or those who Want to Join other Progressive Sectors.


We can make Teams of four/five Members of our Village who are Working in Similar Sectors and Wish to Help. These Teams can be helpful to the Students who Require Practical or Theoretical Knowledge of Subjects they are Pursuing. We can Support such Students by Providing Job Opportunities in our Firm's or Businesses and Grab one more Opportunity to Serve our Village and Society. So that both sides can be Beneficial.


For Example, We Will be Making Teams of four/five C.A./ Advocate/Insurance Agents etc. And Name, Area, Contact Nos., Available Time and Other Details of the Team will be Disclosed. So that they can be Helpful by Providing their Valuable Guidance in their Sectors in Different Locations.


We Wish that, to Help our Village's Brothers Brothers and Sisters and Serve our Society, You all Will Contribute and Co Operate in our New initiative "Bhandhru en Ke Vaat". *ભાંઢરૂ એં કે વાટ*For the new project Kindly Can Share Your Name and Business or Profession Details through *WhatsApp* with

Admin :- Dinesh Gogari - 9821049267
Admin Dipesh Savla - 9819234478.

Thank You !!!